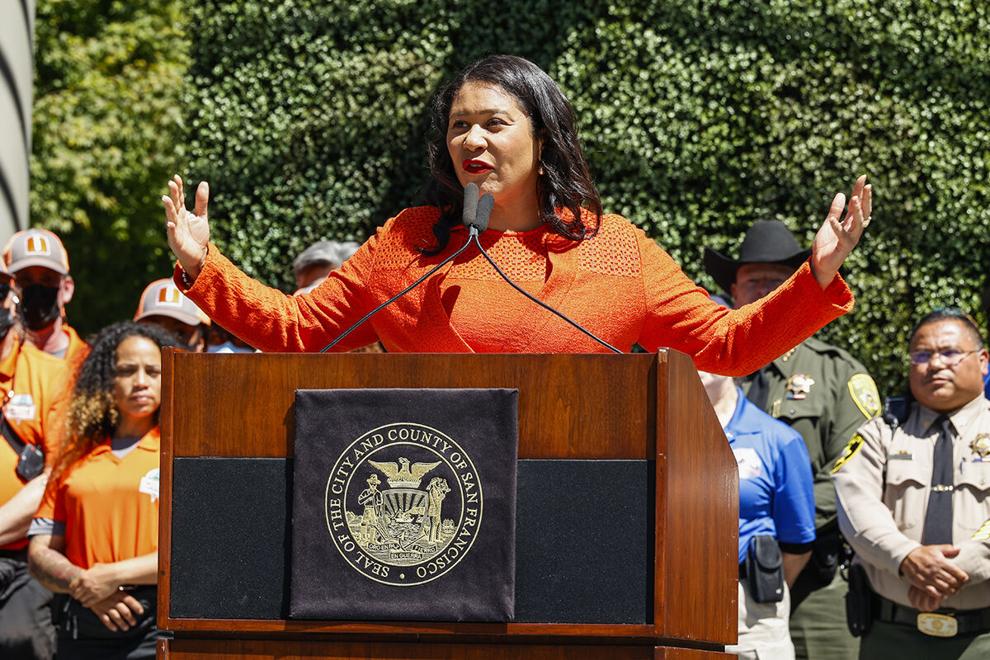 The assembly of police officers, downtown ambassadors and sheriff's deputies behind San Francisco Mayor London Breed made as clear a statement as she ever could.
Breed introduced a $13.95 billion city budget proposal on Wednesday that aims to bolster police staffing, continue outreach programs meant to welcome tourists and fund businesses still struggling to recover from the COVID-19 pandemic.
"When I traveled to promote San Francisco, people talked about this city and how much they love it and how much they want to come here. But what they also talked about was their concerns about safety," Breed said, describing the budget proposal in a speech made in the heart of The City's commercial core.
Breed's budget priorities reflect the fear and discontent San Franciscans are voicing in public surveys and at the ballot box in recent months.
The choice of Union Square as the stage upon which to unveil her budget was a nod to the notoriety The City received after the mass looting of retail stores last November — and the swift, robust police response that followed.
"People put us on a map, virally, like they never have before," Breed said. "But what they didn't show was our response to what happened here in Union Square — not only more of a police presence, but more of our incredible community ambassadors."
Despite Breed's declaration of an emergency, the same police response failed to materialize in the Tenderloin neighborhood, a discrepancy Breed acknowledged and previously blamed partly on a lack of police resources. The department has lost scores of police officers in recent years, with about 200 vacancies right now. The trend is expected to continue as more officers retire, but Breed has charted a new course. 
Breed's budget proposal includes funding to hold four police academies in each of the next two years, which her office says could lead to the hiring of 220 new officers, and increasing the officers' starting salary. As part of a $708 million Police Department budget — a $51 million increase over the previous year — the mayor also hopes to incentivize officers to stick around, offering retention bonuses at five and 15 years of service.
"People want to come to cities and departments where they're supported, so it's huge," San Francisco Police Chief Bill Scott told The Examiner. Still, he said it would likely take years for the department to recover fully from its staffing losses.
"We've got to just plug away and continue to recruit hard and make this city and department a place where people want to work," Scott said.
The mayor stressed that investments in policing would not come at the expense of reforms. She touted the developments made in providing alternatives to policing, including crisis response teams that can handle issues once left to the police to resolve. The mayor also proposed adding crisis counselors to the city's 911 call center who can respond to calls related to mental and behavioral health issues.
Breed also announced $50 million in her budget to support downtown commerce — including $10 million of direct grants and loans to small businesses. The mayor emphasized the reinvigoration of downtown — and the purported $10 billion economic benefit it provides to The City — as businesses face the lingering consequences of the pandemic and work-from-home policies.
Across neighborhoods, The City's hospitality industry has not recovered equally from the pandemic, argued Andy Chun, a co-owner of Schroeder's, a historic bar and restaurant in the Financial District.
Downtown, "workers have been slow to return back and retail has been slow to recover as well, along with the tourist business that we count on," Chun said.
"I was really excited to hear about the mayor and the city's commitment to revitalizing the downtown core, and this budget goes a long way in providing that first step," Chun said.
Breed highlighted the city's progress in addressing homelessness. The recent point-in-time count showed unsheltered homelessness dropped by 15% since the previous count in 2019, an aberration among Bay Area counties.
"We should be proud of that, but we know there is more work to do," Breed said.
To further that effort, the budget includes funding for a new 70-unit cabin village in the Mission, like the array of cabins established earlier this year on Gough Street. The budget proposal continues funding for three shelter-in-place hotels that the city opened during the pandemic, which were otherwise set to close at the end of 2022.
Employees at the nonprofits that manage the city's homeless services — including those who work in the city's permanent supportive housing — should expect a pay bump, as should early educators.
Non-sworn city employees are lined up for a 10% pay raise over the two-year budget cycle. City employee raises total $171.5 million over two years, while nonprofit wage increases total $30 million.
"This budget rewards our workforce, providing a significant raise over the next two years to ensure that they know how valuable they are to continuing to see this city work and thrive," Breed said.
The budget calls for $13.95 billion in spending in the 2022-23 fiscal year and $13.85 billion in 2023-24. For comparison, the current fiscal year's budget calls for $13.45 billion in spending.
Though balanced, Breed's budget leans on the use of $153.4 million in city reserves.
The Board of Supervisors must approve a budget by Aug. 1 and return it to Breed for final approval or a veto.