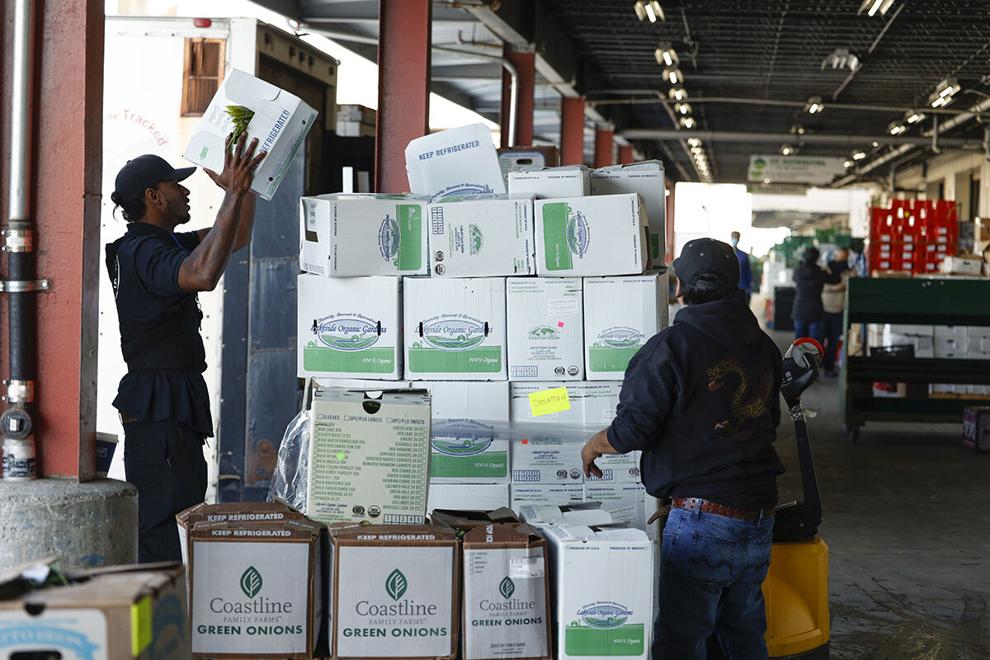 Every morning, before The City blinks to life, the engine that powers San Francisco's produce market has already switched into gear. 
Here, in the predawn light, you will find a collision of life and commerce: the groan of huge trucks hauling in the day's harvest, merchants barking orders from loading docks and boxes of colorful produce piled high. These are telltale signs you've arrived at The SF Market in Bayview, the first stop for much of the region's fresh produce.
But the SF Market is also one of the first places where excess and imperfect food meets an untimely end. Some of the misshapen carrots, overripe pineapples and excess onions will inevitably get tossed out and sent to decompose, creating harmful emissions that add to the climate crisis. 
That's why this bustling marketplace has become critical to The City's food recovery program. Of the 20 million pounds of food that San Francisco recovers annually, over 1 million is being saved here and redistributed to residents in need, thanks in large part to Carolyn Lasar, the market's food recovery coordinator. The City wants to add 7 million pounds to that figure in the coming years as part of its climate goals. 
"This would not sell, but that's why they're donating them," said Lasar, pointing to a pallet of slightly browning mushroom caps left on the side of a loading dock. "They are cosmetically imperfect but perfectly good to eat."
Lasar arrives early each morning to track and collect unsold produce from vendors who donate the day's extras to the food recovery program instead of dumping it into the compost. Lasar, a New York transplant who moved to the Bay Area in 2008, wears a quick wit and multi-colored spectacles, and it's clear that she runs the show as she darts off midsentence to talk to vendors or reroutes boxes of green onions.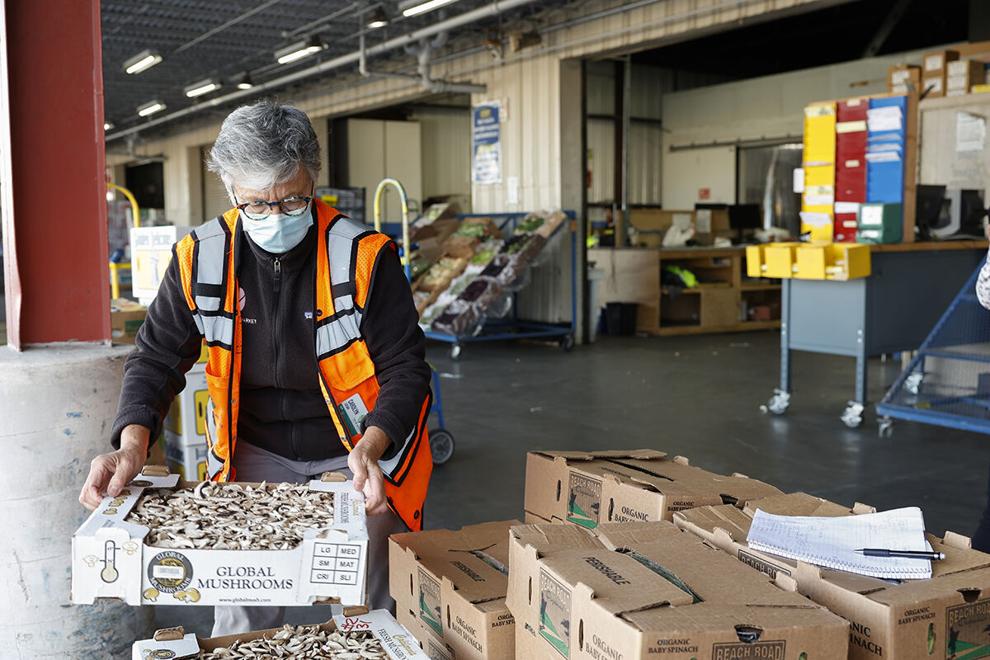 Slashing methane and hydrofluorocarbon gas emissions 
Lasar's work at The SF Market is tied to The City's broader efforts to implement a statewide law, SB1383, which went into effect in January and aims to bring down methane and hydrofluorocarbon gas emissions by reducing the amount of organic waste that ends up in landfills by 75%, while also rescuing 20% of the state's surplus food by 2025.
Landfills represent California's third-largest source of methane, a greenhouse gas more than 25 times as potent as carbon dioxide in trapping heat in the atmosphere. By diverting food scraps and yard trimmings to compost programs, the state aims to reduce emissions and eliminate air pollutants, like PM 2.5, which contributes to health conditions like asthma.
Luckily for San Francisco, a city that has long been a national leader in large-scale composting, residents are well versed in using their green bins, designated for organic waste. 
"We're there," on the composting front, said Charles Sheehan, chief policy and public affairs officer at the Department of the Environment. "There's this whole state law that's going to have all these impacts up and down California, and it's kind of been modeled on what we've been doing for decades."
But it's become clear that composting alone will not solve the problem. Even before a breast of chicken or a bunch of bananas reaches a compost bin or food bank, growing that food has already contributed significantly to climate change — responsible for about 35% of total global greenhouse gas emissions, according to a recent study. 
Donating, not dumping food
That's why the focus for San Francisco is shifting to trickier issues, like reducing The City's overall waste generation — including compost — by 15% and recovering the maximum amount of discarded but still fresh food from markets, distributors and wholesalers.
Taken together, these tactics represent a way to reduce emissions and save money on needless waste, said Sheehan. But it can also help solve another widespread and urgent problem in San Francisco: hunger, an issue only exacerbated by the pandemic. 
"Food insecurity remains a significant issue in San Francisco with 1 in 4 residents at risk of hunger due to low income or economic insecurity," said San Francisco District 10 Supervisor Shamann Walton, who sponsored legislation at this week's Board of Supervisors meeting to implement SB1383 locally. "BIPOC communities, in particular Black and Latino, with a growing trend in The City's Asian community, are most at risk."
The Department of the Environment has already been working to meet the regulations outlined in SB1383 through a pilot program called Kitchen Zero SF, which partners with tech companies like Replate to track food donations and schedule one-time or recurring food pickups and deliveries. Since its establishment in 2019, the Department has recovered and redistributed over 3 million pounds of food, equivalent to about 2.7 million meals, noted Sheehan. "I think it shows a lot of promise," he said.
But equitably distributing food remains a significant priority and a major challenge. This is evident at The SF Market, which has little control over what is donated. Some vendors may donate pallets of unsold leeks or boxes of fresh rhubarb, for example; but not everyone in need of food assistance has access to a kitchen or use for those ingredients in their specific cuisines or diets. 
That's why a focus on food equity and providing culturally appropriate food is critical, noted Sara Draper-Zivetz, The SF Market's program manager. "It's a big issue. Our assumption that people who need food can then take it home and cook it is not the right assumption. For lots of people, whether they're unhoused folks, people in SROs or students — access to kitchens is a big challenge." 
To address this, the SF Market partners with as many community groups as possible. Whether that means getting fresh produce to specific communities or food banks or partnering with organizations that can turn fresh produce into hot meals or preserve food through freezing, "the success of the work comes down to the relationships," said Draper-Zivetz. 
Still, because SB1383 and these citywide food recovery programs are relatively new, the impact on emissions remains to be seen. "The tools and programs are all in place, we just have to execute," said Sheehan.
But using food as a lens to affect change in several areas simultaneously is what brings Draper-Zivetz back to this clanging, chaotic central nervous system every morning.  
"On one day, we can be talking about the implications of the way that we farm and dispose of things, and the next we can be talking about food security and food access — and both are true for the work," she said. "Food waste, honestly, is like the low-hanging fruit. It's not a small problem, and it's not going to get solved overnight. But, this nexus of multiple solutions coming out of one problem, I think, is really exciting."